Hi Hollowers!
I can't believe it's December already, can you?  Today I am here to show you a gift I made for Maddi, she's at an age where make-up has become a thing; so I want to give her some to top up her collection plus a way for her to organize it in style!  I also have some other ideas for you of how to use the Delfecto Stack and Go Caddy.  First of all let's look at the problem (this is my make-up and I totally want one too and so does Kelly!)…
Now look at the after (maybe Maddi won't get this for Christmas?!)
Deflecto provided me with some product to create this project. The opinions I share are solely my own.
Doesn't it look so easy to use and organized? Let me show you some great touches I added; first of all the brush storage, this is actually a marker holder and they either fit in the caddy or click together to make longer ones for you vanity or desk top…
I added brushes on the side using my new Cricut Maker machine and some Pink Holographic Vinyl (all listed at the bottom of the post in my supply list).  It's actually labelled as a marker holder but I added my make-up brushes, eyeliner, mascara, my big hair clips for when I'm blow drying or doing foundation plus my favorite comb.  You could also add your brush, lip liner, lip gloss and more, they are stretchy silicone squares that are so practical and have so many options.
I also added the same holographic details on all the caddies…
Don't you love the way that holographic vinyl catches the light? I also used some pink blush metallic vinyl to the tops that again I cut with the Cricut Maker, the font I used is called lipstick…
Each of the caddies has a great lid that has a nice solid click to close and its very secure so Tilly won't be able to open it and make a mess!
A great gift I'm sure you'll agree, I'm sure I will be making another of these for me and our Nanny, plus maybe a few friends too! The great thing is how you can customize the caddy, there the large three slot caddy, the two and the single which I replaced with the marker storage.  You can buy each element individually so you could have all markers for craft or other storage, all singles or a double and a single on each side, the possibilities are endless!  I also noticed my nail polish fitted in this great, maybe you could do a manicure one for someone who loves their polish; the customization of these really is never ending!
I also wanted to share some other ideas with you as we have a few of these in other areas of the house too; my husband has a caddy in his photography room for all his cables…
Tilly also has one for her craft supplies and crayons…
So once you have a few (or just one) you can add this wheeled accessory…
And clip them together to form a great stacked wheel along caddy!
So here is your supply list for the caddy and the customization with the Cricut Maker supplies and also the label maker I used on Greg's (affiliate links used where possible at no additional cost to you) check out the
Hedgehog Hollow Sales Page
for the latest coupon codes too…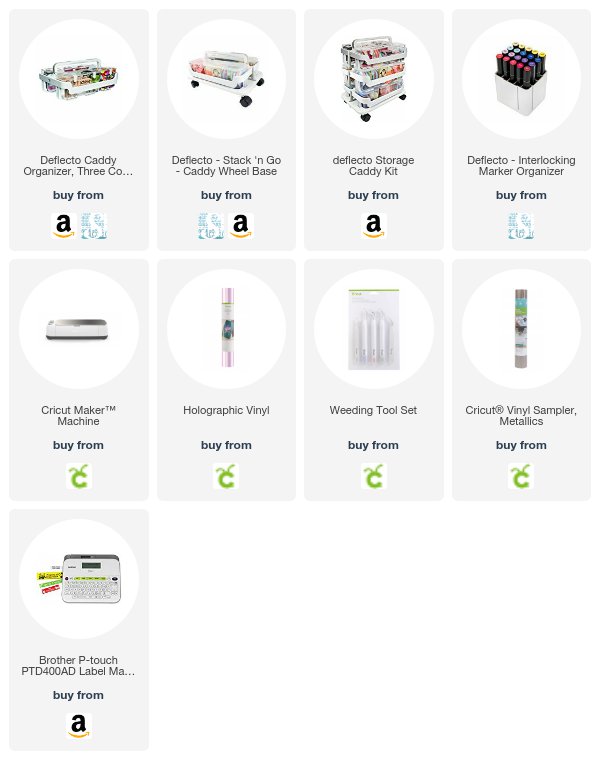 Thanks so much for joining me today, we have a full crafty guide guide in the works with ideas for every budget so stayed tuned for the links and coupons to pass onto your personal Santa!
Happy Stamping!